Slide to prepare your dog's food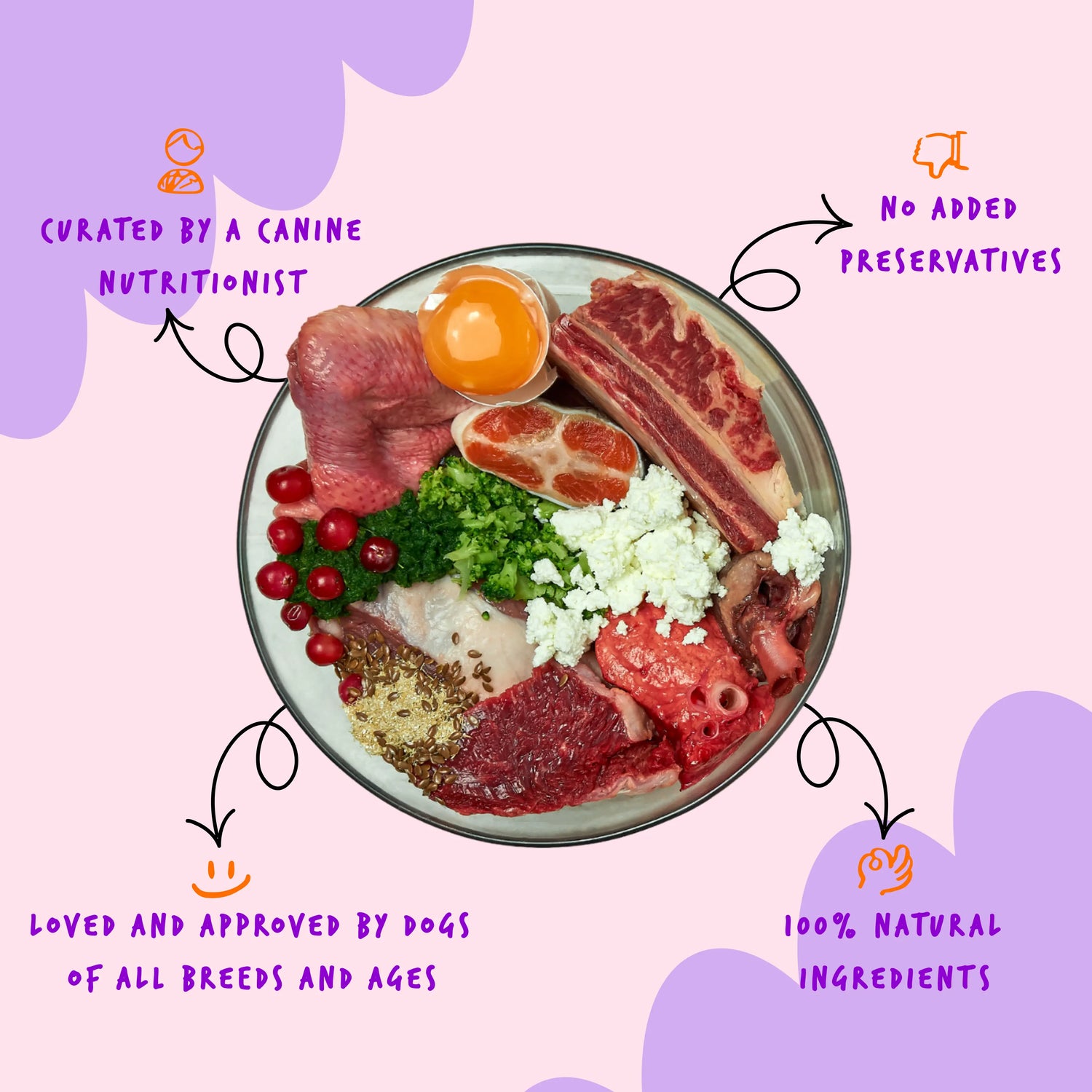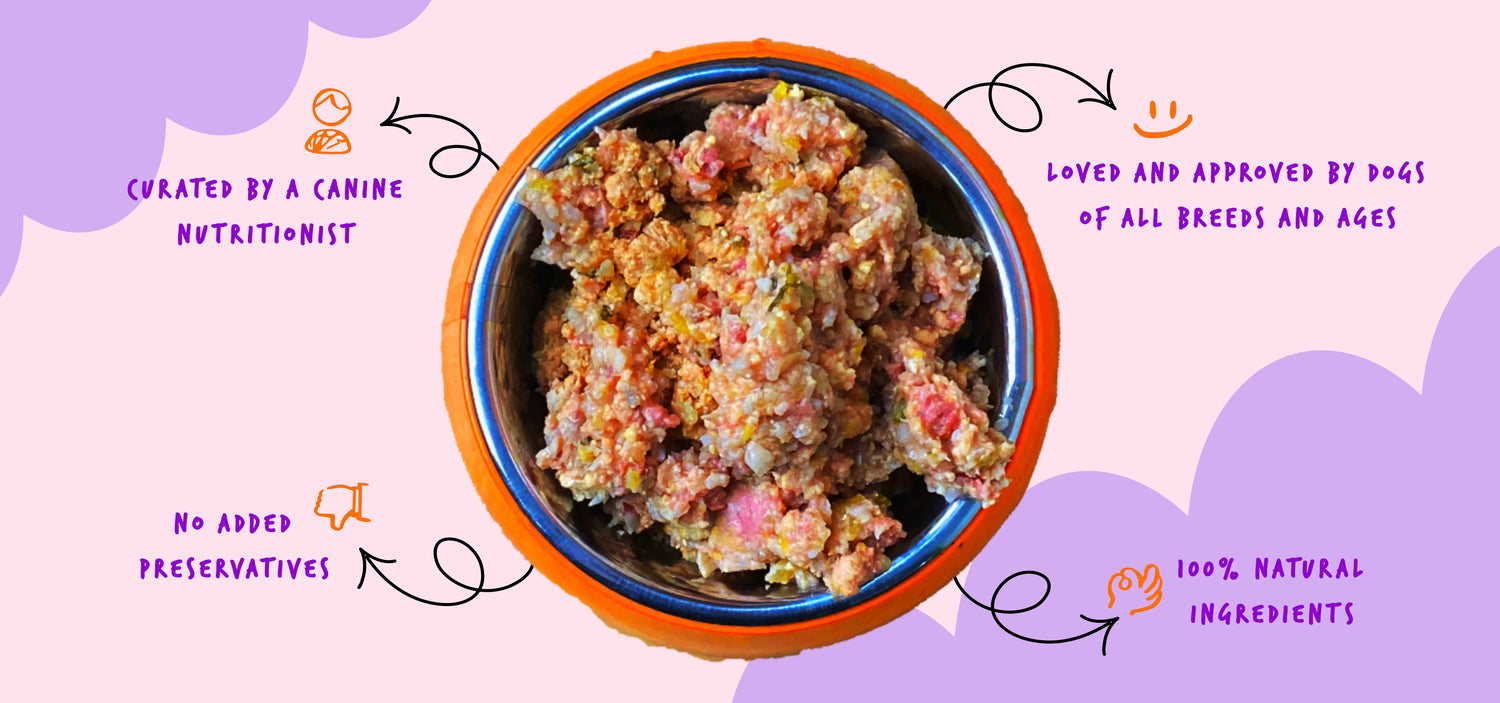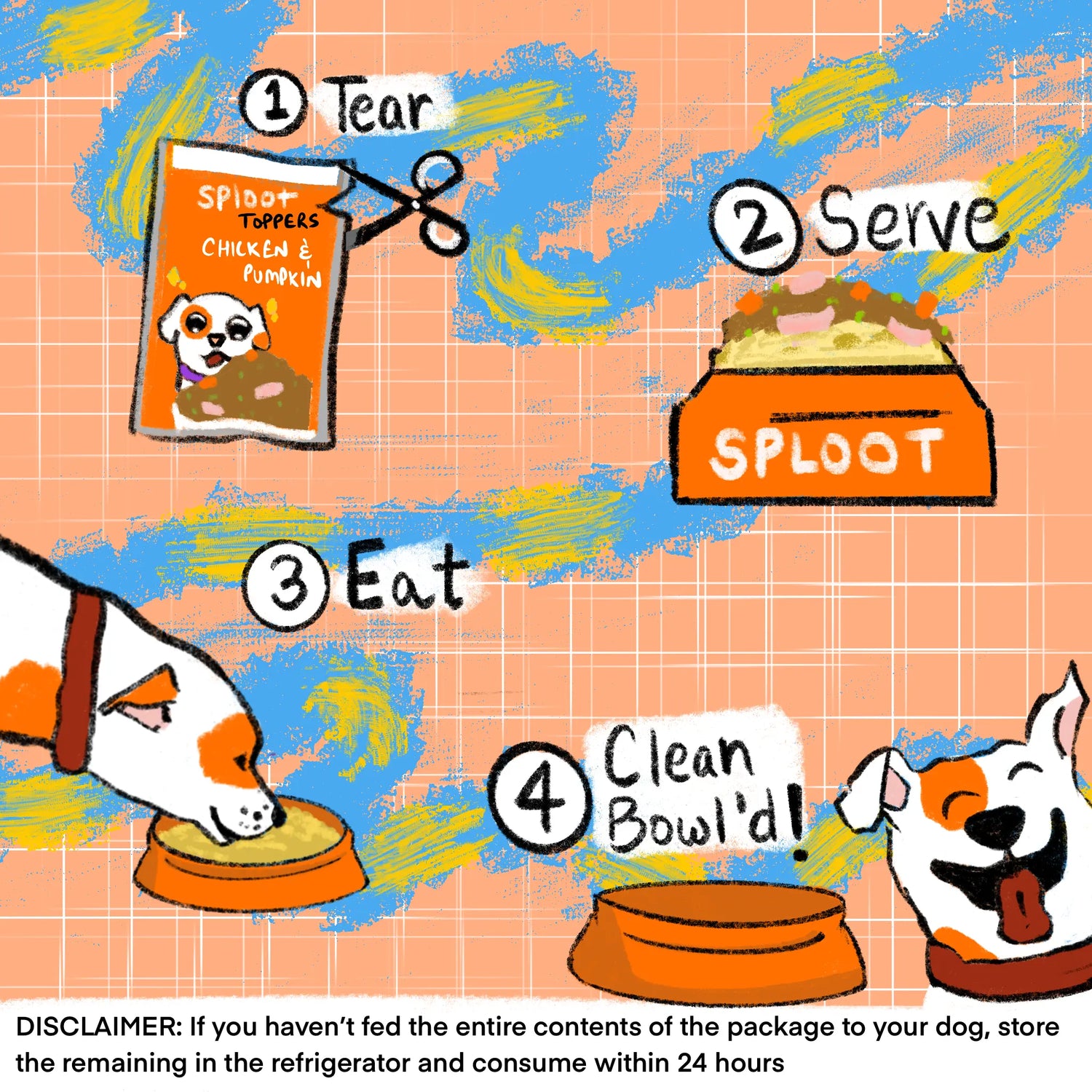 Easy to Serve - Ready to Eat!
Get all the benefits of a nutritious meal without any hassles. 🐶
We guarantee a clean bowl-ed meal for your dog every time. 💯
Regular price

From Rs. 699.00

Regular price

Rs. 720.00

Sale price

From Rs. 699.00

Unit price

per
Regular price

From Rs. 699.00

Regular price

Rs. 720.00

Sale price

From Rs. 699.00

Unit price

per
Skip to product information
Media gallery

Media gallery

Media gallery

Media gallery

Media gallery

Media gallery

Media gallery

Media gallery
Fresh Dog Food | Taster/ Mixed Bundle Pack
Regular price

Rs. 769.00

Sale price

Rs. 488.00

Unit price

per
Notified by email when this product becomes available
Download the sploot app and address your dog's needs all in one place.
From a dog walker, dog food & at-home grooming to reliable advice from canine experts, get everything at sploot!
Download now
Nourishing Your Husky: A Comprehensive Guide
Undoubtedly, Huskies rank among the most robust canine breeds, closely following the Indie. But regardless of their sturdy nature, a well-balanced and nutritious diet remains paramount for their lifelong wellness. Sadly, Huskies can sometimes grapple with conditions like hip dysplasia and cataracts, commonly linked to incautious breeding. Therefore, when acquiring a Husky, always opt for a reputable breeder and get a thorough vet check-up to preempt potential health challenges.
Protein's Role
Central to tissue repair, skin and coat vitality, hormonal equilibrium, and the renewal of cells and enzymes, protein is indispensable for Huskies. A diet with a protein constituent exceeding 30%, whether derived from plants or animals, is ideal. For a nuanced understanding of the most suitable protein source for your Husky, liaise with a veterinarian or a canine nutrition specialist. Puppies, particularly those under a year, necessitate more protein due to their ongoing growth. Senior Huskies, aged 9 or above, should be transitioned to a protein-rich diet to counterbalance muscle loss from aging.
The Essence of Carbohydrates
For Huskies, carbohydrates are vital for energy provision and cognitive functions. Yet, the exact carbohydrate portion hinges on factors like age, activity scale, and potential allergies. An energetic Husky, engaging in 4-5 hours of physical activity daily, naturally demands more energy than a less active counterpart. While carbs are often implicated in obesity among Huskies, the root issue is more about excessive feeding coupled with inadequate exercise.
The Significance of Fat
A Husky's dietary fat should ideally range between 12-18%. Healthy fats, manifesting as various oils like fish, cod liver, olive, coconut, and sunflower oils, are beneficial. They enhance organ protection, cognitive functions, skin and coat health, allergy resistance, and digestion.
Essential Vitamins & Minerals
For a Husky, critical vitamins and minerals emanate from sources like fruits, vegetables, and seeds. Minerals such as calcium, phosphorus, potassium, and others, as well as vitamins A to K, are vital. These compounds fortify joints, improve skin condition, boost hormonal balance, and bolster the immune system.
In essence, your Husky's health is directly proportional to the care you offer in terms of diet and physical activity. By investing in their health, you're essentially extending your cherished moments together. For premium Husky nutrition options in India, explore Petsy's range!
Sploot Fresh Delicacies are a transformative approach to cater to your furry companions. Scrumptious, flavorful, and supremely healthy, every meal ensures your pet's tail keeps wagging with joy. Made with utmost care using prime ingredients, our Fresh Delicacies cater to even the most discerning taste preferences. Providing fresh-cooked meals for your pet has been simplified to just tearing open the package and serving.
Our advanced packaging ensures the food remains fresh without needing additives. Brimming with wholesome, high-quality ingredients fit for human consumption, our dishes are free from grains, gluten, and preservatives! Taste our sampler packs to discover your pet's preferences and curate an ideal meal plan.
Fresh ingredients are more digestible, aiding your pet in extracting maximum energy. The Vitamin A in these foods ensures healthy eyesight. Experience the transformation by switching to additive-free nourishing food for your furry loved ones.
Sploot Fresh Delicacies are not only palatable but also crafted with the best ingredients. Ready in moments, these meals guarantee a delighted and excited canine. Moreover, our packaging allows for extended shelf-life. Eager to introduce fresh food to your pet? Sploot has just the right offerings!
Highlighted are the top 7 benefits of treating your dog with fresh, healthful food:
Fresh meals are abundant in antioxidants and top-grade proteins, aiding in disease prevention.
Research indicates dogs on a fresh food regimen have an average lifespan of 13.1 years, in contrast to the 10.4 years of those on commercial diets—an extended time of 2.7 years with your furry friend. Adopting a fresh food diet promotes a healthy weight, linked to a 20% longevity boost.
Dogs naturally struggle with grain digestion. Grain-free meals, being protein-rich and low on carbs, are more digestible.
Maintaining a dog's optimal weight is vital. Fresh food, rich in nutrients and hydration, ensures satiety without excessive caloric intake.
Grain-free meals enhance your dog's coat and skin, as grains lack essential nutrients. High-protein, grain-free foods, especially fish-based, provide the necessary fatty acids, ensuring a lustrous, robust coat.
Grain-free diets can boost your dog's energy levels. Proteins are the primary energy source for dogs, and traditional foods often lead to energy waste.
Dietary choices profoundly impact dental health. A nutritious diet, like grain-free, can improve breath quality.
Elevate your pet's meals with Sploot's savory bone broth dry dog food enhancers. Meticulously designed with prime ingredients, our bone broth promises a taste and health-packed meal. Pour the broth over any kibble or fresh food and witness the magic. The broth, derived from hours of bone boiling, is abundant in nutrients, offering improved skin, coat, joint, and overall health. At Sploot, we prioritize quality and health, ensuring our offerings are made with 100% human-grade ingredients in facilities fit for human nutrition.
Bone broth is immensely beneficial for dogs, promoting coat health, reducing inflammation, and providing essential vitamins and minerals. Besides, the broth offers immune system support and combats respiratory infections. Furthermore, bone broths can alleviate shedding issues and are ideal for dogs due to their amino acid and protein content.
Especially for elderly or post-surgical dogs, bone broth enhances hydration and appetite. Packed with nutrients like glucosamine, glycine, proline, collagen, and potassium, it aids in healing and detoxification.
Boost your dog's vitality with Sploot's Superfood Daily Meal Sauce. Our top-tier canine cuisine features ingredients like genuine chicken liver, pumpkin, bone broth, eggs, shell powder, linseed, coconut oil, and spinach. Devoid of artificial additives, our adult dog recipes offer essential nutrients. These toppers can be standalone treats or mixed with kibble. They ensure comprehensive nutrition for adult dogs.