Skip to product information
Media gallery

Media gallery

Media gallery

Media gallery

Media gallery

Media gallery
sploot Toppers | 100% Fresh Gravy Topper (12 X 100g)
Regular price

Rs. 956.00

Sale price

Rs. 850.00

Unit price

per
Description

At sploot we're strong believers of keeping it real, and this value translates into our products too. Sploot's meals are prepared how you would make food for your dog at home. No preservatives, no processing, no fillers or random ingredients. Only "fresh" food.❤️

 

🌟About the recipe: 

Sploot's gravy topper is formulated by a canine nutritionist to help make your dog's regular food taste better and provide a nutritional boost.

Nutrient-packed, our toppers offer dog parents an easy way to perk up kibble with a boost of flavor and nutrition. You can also use it with rice, medicines, home cooked food & curd.

"Each box contains 12 individual packs of fresh gravy toppers."

 

🌟WHY US ?

Sploot fresh food has 5 recipes to choose from.

" Each recipe is formulated by a canine nutritionist to ensure that it is the right set of nutrients for your dog's long and healthy life.🐕🐶"

 

 🌟WHAT YOU SEE IS WHAT YOU GET

 Chicken, Pumpkin, Chia seeds & Coconut oil.  Perfect to turn any meal into a nutritious delight!


Note: Pumpkin is an excellent source of fiber, promoting regular bowel movements and chicken provides essential amino acids for overall health.

 

🌟BENEFITS OF SPLOOT FOOD

-This chicken and pumpkin food topper is high in protein, vitamins, and minerals, supporting muscle growth, healthy digestion, and immune function.

-Toppers can be especially helpful in the case of fussy eaters, making them gobble down their food in minutes!
Feeding Guide

Based on your dog's weight they will require fresh food in the quantities mentioned below for each meal:

0-15 KGS : 200 gms (one pouch)
16-30 KGS : 400 gms (2 pouches)
31-45 KGS : 600 gms (3 pouches)
46-60 KGS : 800 gms (4 pouches)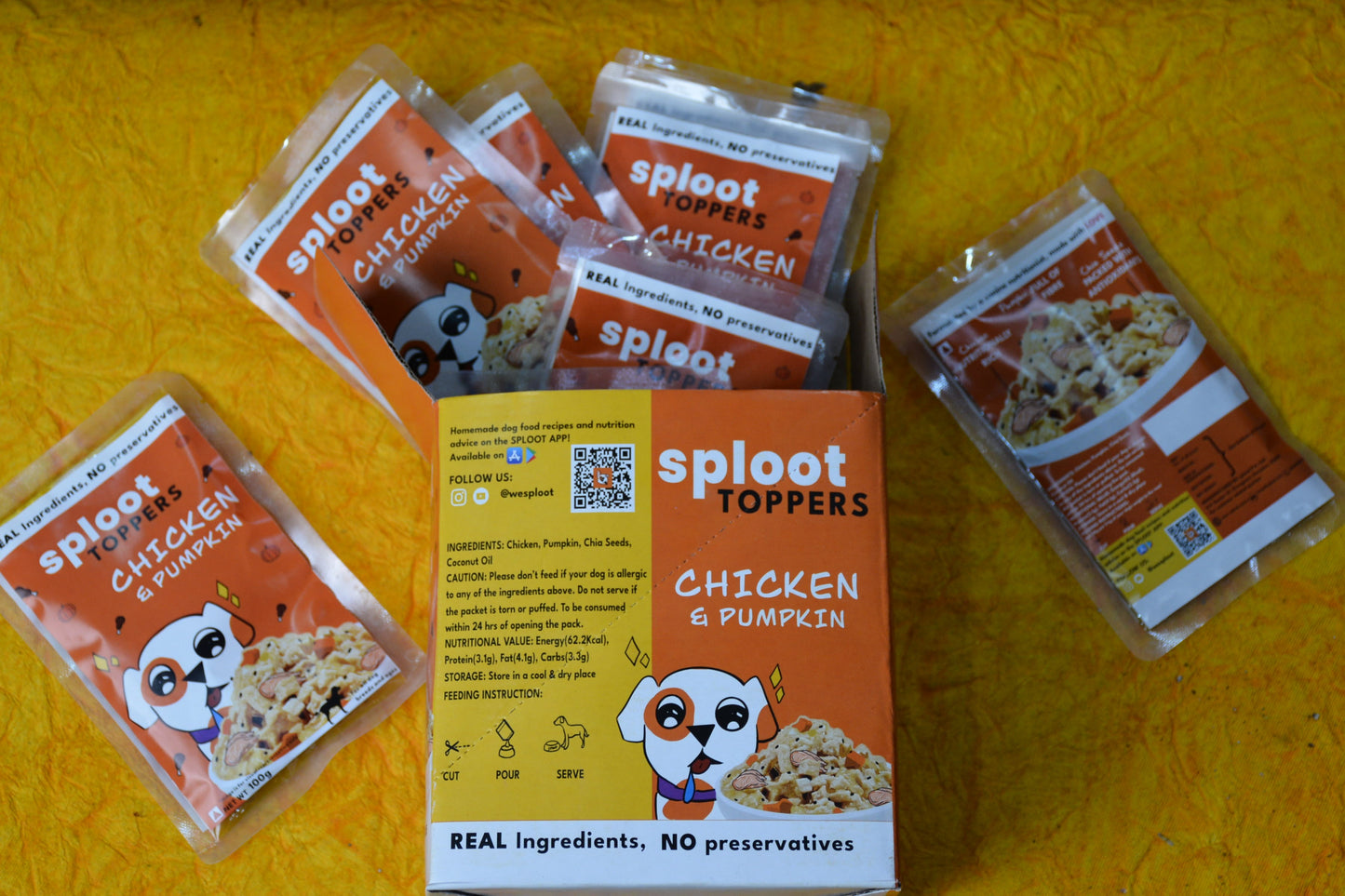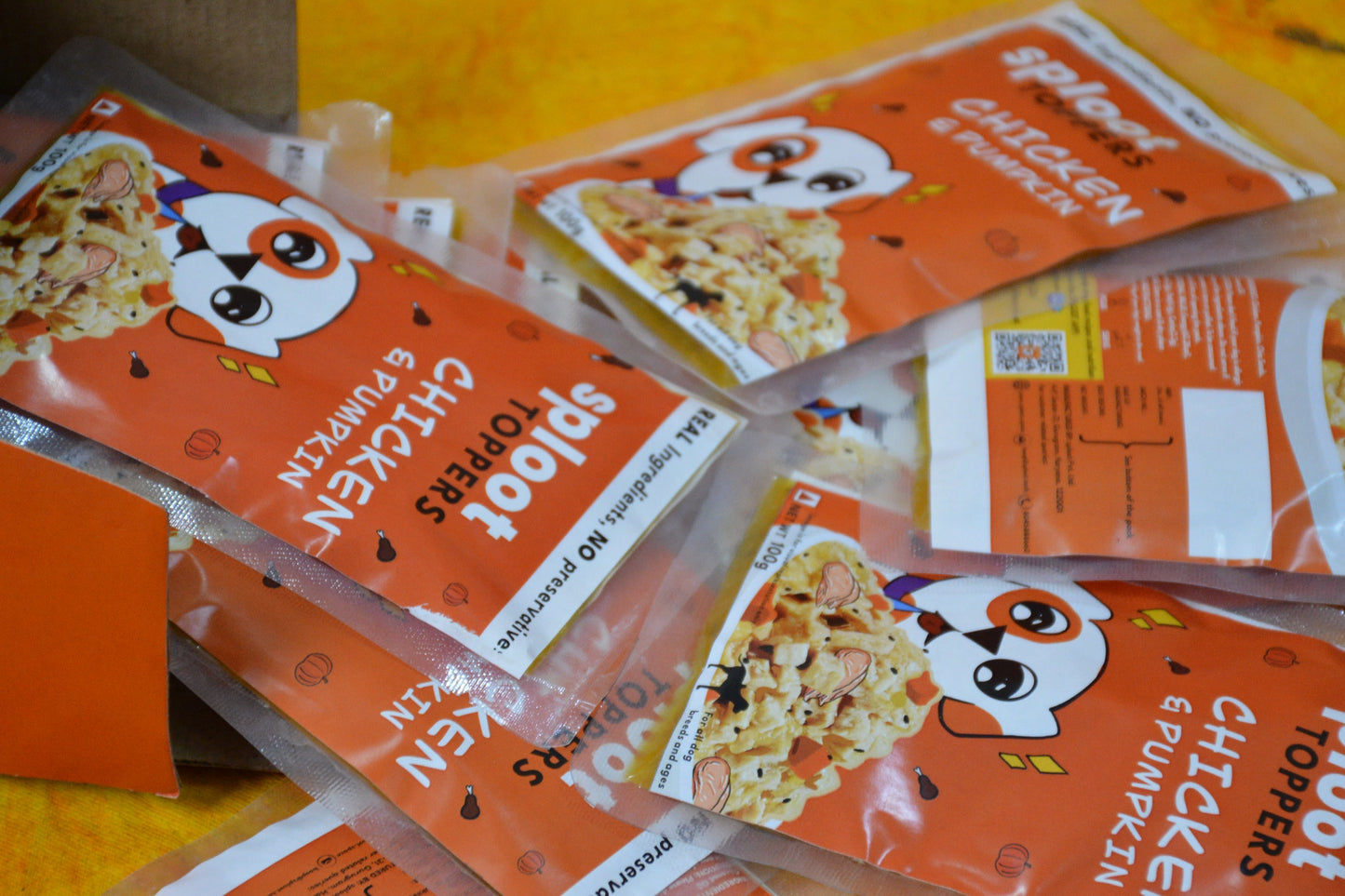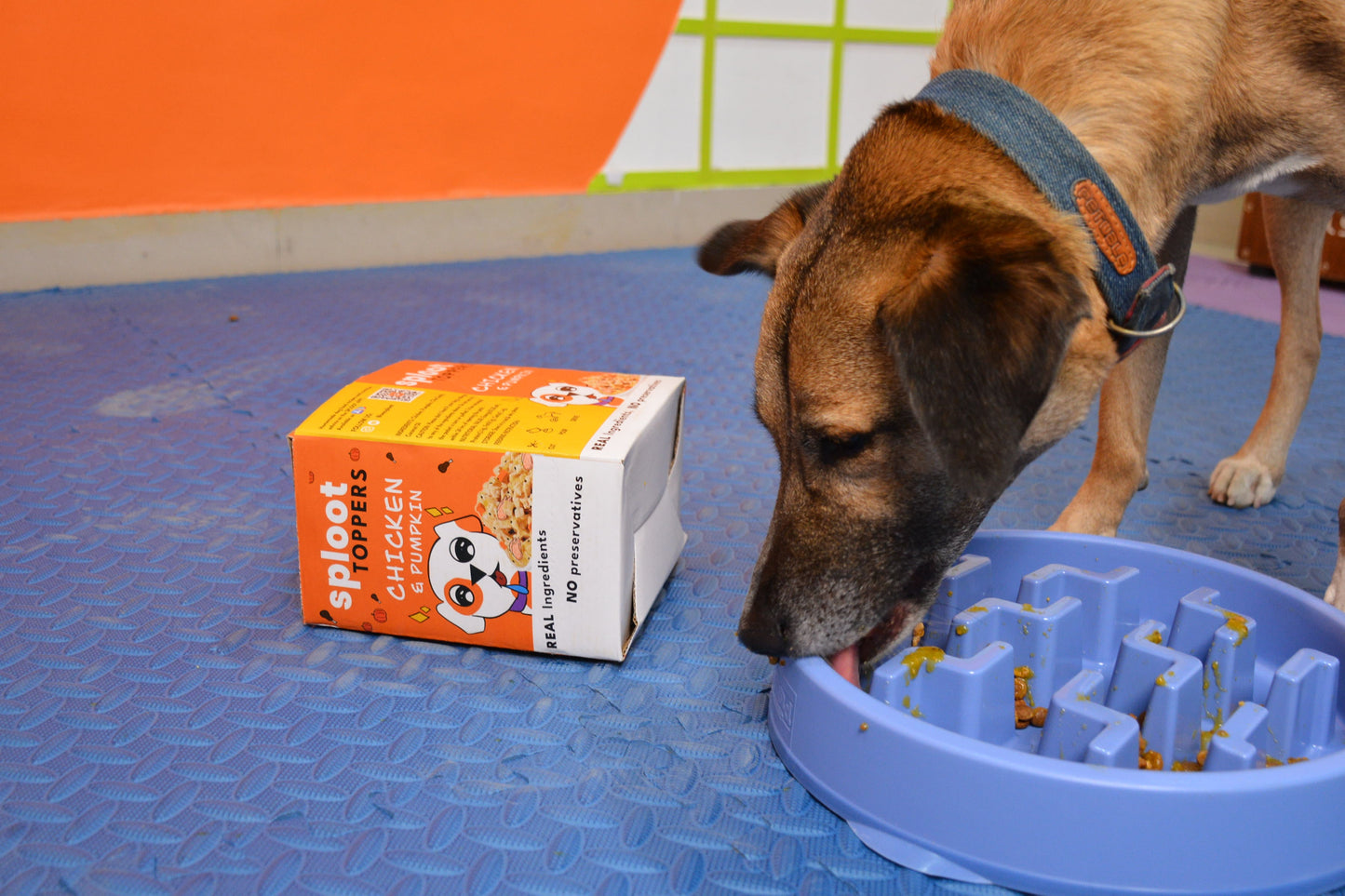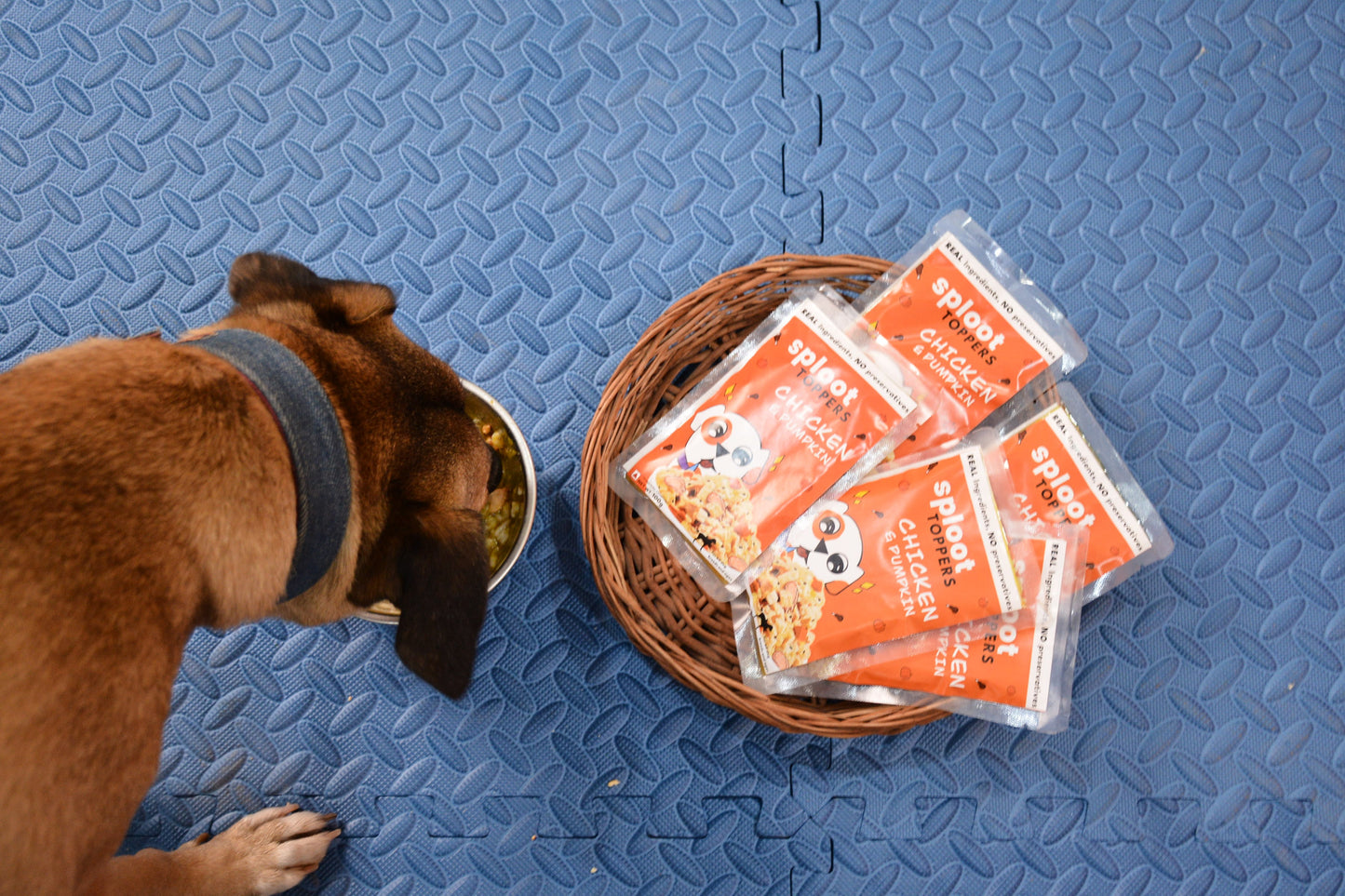 Notified by email when this product becomes available
sploot Toppers | 100% Fresh Gravy Topper (12 X 100g)
Frequently Asked Questions
Fresh food is suitable for all dog breeds aged > 1 year. 
Sploot's fresh meal pouches have a shelf life of 24 months.
sploot's fresh food is a complete meal in itself. All you do is tear open the packet, serve your dog in their bowl and watch while they lick it clean!
At sploot we've curated 5 recipes, they're all made with natural ingredients, zero preservatives and absolutely no fillers or additives. It's as clean as the food you'd make for your dog at home!If there's a specific ingredient or diet that you're looking to include in your dog's meals, please go through the ingredients of each recipe on our website.
We recommend starting off slow. Introduce your dog to a small amount of sploot fresh food, mixed in with what they're currently eating. You can gradually increase the amount of fresh food each day, until your dog is happy to shift completely! Feel free to refer to the transition guide provided on the pack of each pouch. 
Dog parents who've been relying on sploot fresh food for ~1 year have noticed a +ve change in their fussy dog's meal-time excitement and eating habits.Our recipes are created keeping in mind a dog's palate with fresh ingredients and exciting textures.More often than not fussy eating could be just about wanting a change, which is great because sploot's got 5 recipes to choose from!